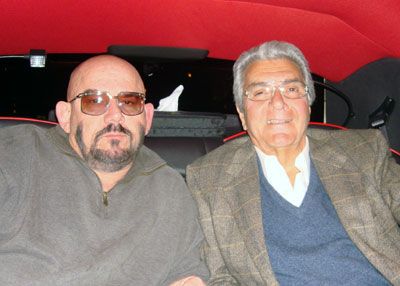 Almost 31 years ago, I wrote a piece 'thanking' all of those who helped me to achieve the success that I still enjoy today after all of those years. As I stated back then, "all private investigators are created by the lawyers they associate with, pretty simple! Hang out with little league lawyers, and you will get the clients they attract. Hang out with the big-league lawyers and will become known as the go-to guy. I speak from experience."

It is true I was initially found by Gary R. Lieberman, Esquire. Gary is the guy responsible for John J. Nazarian taking that initial 'P.I.' test in California so many years ago. Today, January 10, 2023, I am licensed and work in multiple jurisdictions) "John, why don't you get private investigators license?" And it is true I was given an amazing opportunity by "3 Jews and an Armenian." It was these four people that brought me into the world of the rich and famous. Certainly, through the years, I did develop relationships with two United States Presidents and their families and other high-net-worth individuals.

It was Gary R. Lieberman, Esq. who gave me my first assignment after getting my P.I. ticket. Gary paid me $ 45.00 dollars an hour while I drove and slept my way into my first assignment all the way into Lake Tahoe. At the time, I could not believe my incredible fortune. As the years passed, I would become one of the highest-paid private investigators in the world; today, I earn $ 600.00 an hour plus all my expenses. Had it not been for Gary R. Lieberman, I would very likely have stayed as a peace officer working for my yearly wages and never had known any better. Gary was, in fact, the #1 Jew in what would be a lifetime career. Thank You, Gary, to this day!

Upon arriving in Los Angeles, it was Armand Keosian, Esquire, who gave me an office in his suite over 31 years ago. I was new to Los Angeles, but I had been in contact with Armand for many years. And when I became a P.I., I asked for his assistance again in finding an office. He gave me an office on the Avenue of the Stars, and it had a great view, too! I was on my way, Century City, Bam!!!!

I worked with Armand and his two sons -- Chris is now legal counsel to the Sheriff of L.A. County, and Greg is a Superior Court Judge! Armand has now retired, and I will never be able to thank him enough for his generosity. All those years, he never accepted one penny for rent and was always there with sound advice (look at his two sons for the quality of his counsel).

Armand came to my aid 40 years ago when I was in my twenties, and for more than 40 years, we have been friends! Armand, thank you so much for all you have done for me; much of my success I owe to you. As we all know, an address is important, and you gave me one hell of an address to work from. When you think back, I could have ended up in Glendale!"

The man in the photo here is Armand Keosian, Esq. this photo was taken in 2007 in the rear of one of my Lincoln limousines. This car was my personal car as it had the Imperial red leather interior; my driver was Octavio back then. Several years ago, Armand died. He was one of the greatest. He took his job as a lawyer very seriously and watched over his two sons, who also practiced with him. Numerous times I had told Armand, as well as his sons, how much he did for me and was critical in giving me a place to be seen, Century City. Armand was "The" Armenian!

Lisa Helfend Meyer, Esquire, the founder of one of the largest family law firms in the country, gave me my first big check. Meeting Lisa was, frankly, one of the luckiest days of my life. Am I overdoing it? (I was working with Doris Duke and in court on a Duke matter when Lisa and I met) Lisa is my #2 Jew in this story.

"Things Change." Oh, boy, and have they. Lisa Helfend Meyer, Esq., and I are no longer friends; not really sure we ever were. As the story goes, you can't lose something you never had! A few years ago, Lisa gave me an ultimatum. It was I take a negative story down that was on DESPERATEEXES.COM that I had written all the truth. The story I did was about her little "referral source," Samantha Spector, a lawyer that can generate millions in income and, in my opinion, is one of the most incompetent divorce lawyers money will buy. Back to the "ultimatum." We will post the card that was sent to me by my "Friend" very soon. I chose to leave that story up and move on from that money-grubbing former "friend" Lisa Helfend Meyer, DIVORCE lawyer.

Not sure why Lisa Helfend Meyer thought I would respond to such a threat, and frankly, I have never missed the relationship. As to Lisa's support staff in that office, it was like having a syphilis sore on your genitals!

** Interesting fact, through the years, Lisa took such great joy when some of her fellow DIVORCE lawyers were featured on DESPERATEEXES.COM in a less than flattering light. We all laughed. I remember clearly telling Lisa in a phone call that Stephen Kolodny had died; the response was laughter and happiness at a spectacular level of glee! (I can understand why, actually) And Lisa actually laughed at the story about her income source, thinking it was about another lawyer and not Samantha Spector!

A few years ago, another one of my mentors mentioned here also died, Sorrell Trope. It has been sad to have lost two people that were so important to my family and me. As the wisdom of those gone too soon, "only the good die young." If evil and conniving are a benefit to a long life, we can all expect someone like Meyers to live into her hundreds!

"Sorrell Trope, who is now retired, said to me, "John, you have a great deal of talent. You are not charging enough. Double it." Sorrell's advice was sage; it was oak. To have had the opportunity to meet Sorrell and to get his take on fees was another golden opportunity, literally. Sorrell was the 3rd Jew in my story.

So, there they are, my benefactors, my mentors. it was 'Three Jews and an Armenian.' I owe all of these people my eternal respect for being friends to my family and me in my early days. My being a brilliant Private Investigator also was a great help in this wonderful mix! Again, I thank all 4 of you, especially Gary."

Just remember, some things do change, and it was for those reasons I chose to update this part of the NAZARIAN AND ASSOCIATES website. As for all the rest, it is just life moving on.