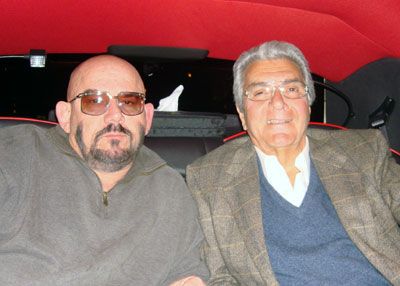 All private investigators are created by the lawyers they associate with, pretty simple! Hang out with little league lawyers and you will get the client they attract. Hang out with the big league lawyers and you will become known as the go-to guy. I speak from experience.

I was found, so to speak, by Gary R. Lieberman, Esquire. Gary R. Lieberman, Esquire, is the man that said to me one day "John, why don't you get a private investigators license?" The rest is history. It was 3 Jews and an Armenian that brought me into the world of the rich and famous. Please continue to read my short story.

Gary threw me my very first assignment after getting my P.I. ticket. I got $45.00 an hour and could not believe my good fortune. Today, I am one of the highest paid in the United States. My hourly rate is $500.00 plus all my related costs. I and my family will always owe Gary R. Lieberman my good fortune in the world that I share with my clients today. He was truly the #1 Jew in this little story!

Upon arriving in Los Angeles, it was Armand Keosian, Esquire who gave me an office in his suite over 26 years ago. I was new to Los Angeles but I had been in contact with Armand for many years. And when I became a P.I., I asked for his assistance again in finding an office. He gave me an office on the Avenue of the Stars, and it had a great view, too! I was on my way, Century City, Bam!!!!

I worked with Armand and his two sons -- Chris is now legal counsel to the Sheriff of LA County and Greg is a Superior Court Judge! Armand has now retired, and I will never be able to thank him enough for his generosity. All of those years he never accepted one penny for rent, and was always there with sound advice (look at his two sons for the quality of his counsel).

Armand came to my aid 40 years ago when I was in my twenties, and for more than 40 years we have been friends! Armand, thank you so much for all you have done for me, much of my success I owe to you. As we all know an address is important, and you gave me one hell of an address to work from...when you think back I could have ended up in Glendale!

Lisa Helfend Meyer, Esquire, the founder of one of the largest family law firms in the country gave me my first big check. Meeting Lisa was, frankly, one of the luckiest days in my life. Am I over doing it? (I was working with Doris Duke and in court on a Duke matter when Lisa and I met) Let me put it another way, when my grand children say their prayers at night, we are sure to say "God Bless Lisa Helfend Meyer." I might like to add that this is certainly chanted, or should be, around her offices. Lisa is my #2 Jew in this story.

Sorrell Trope, who is now retired, said to me "John, you have a great deal of talent, you are not charging enough, double it." Sorrell's advice was sage, it was oak. To have had the opportunity to meet Sorrell and to get his take on fees was another golden opportunity, literally. Sorrell was the 3rd Jew in my story.

So there they are, my benefactors, my mentors. it was 'Three Jews and an Armenian.' I owe all of these people my eternal respect for being friends to me and my family. My being a brilliant Private Investigator also was a great help in this wonderful mix! Again, I thank all 4 of you, especially Gary.